GO-GAI Issue From RokketWEB; Merry X'mas to Everyone !!
Big News!! Ronnie Spector is comming in Tokyo, 1999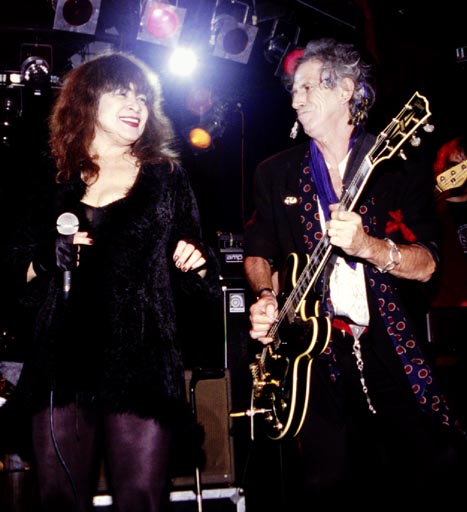 ボブ・グルーエンからシーナ&ザ・ロケッツにビッグな
クリスマス・プレゼントが届きました。
ボブ曰く
先日12月16日、ニューヨーク・ビレッジのブリッカー・ストリートにあるライフ・クラブでジョーイ・ラモーンのクリスマス・パーティに、キース・リチャーズがロニー・スペクター(もちろん、あのロネッツの)にジョイントして、"ラン・ルドルフ・ラン"(もちろんあの、キースの唯一のクリスマス・シングル盤、チャック・ベリー作)をプレイしました。(そして何と「ビー・マイ・ベイビー」もやった、ち)
キース曰く、60年代の初め、ストーンズがはじめてアメリカに行った時、ロニーから歓迎を受けたことを思い出します。彼女はまだ無名だった俺を、誰の目をはばかることなくハーレムのおいしいレストランとクラブに連れ出してくれた。(横にいたナベ曰く「へー!キースとロニーがデートしたんだ!」)
キースはまた曰く、俺がロニーから一緒に出て欲しいと誘いのファックスを受けた時、ちょうど家でロネッツのレコードを聴いていたところだったんだぜ、ッち。
ロニーとジョーイは最近4曲入りCDを録音したばかりで、これは来月イギリスのクリエーション・レコードからリリースされるゲナたい。

Subject:caption
Date:Thu, 17 Dec 1998 15:28:20 EST
From:Bobgruen01@aol.com
To:sheena@rokkets.com

At Joey Ramone's Christmas party Wednesday night (12/16) at Life club on Bleeker St. in New York City. Keith Richards joins Ronnie Spector on stag playing "Run, Run Rudolph" .
Keith said that he remembered the welcome to America he got from Ronnie when he first came here in the early 60's. She took him to Harlem where they went to great restrauants and niteclubs without anyone recognizing the rising rock star.
He also said that when he received a fax from Ronnie asking him to come to the show he was listening to one of her records. Ronnie and Joey Ramone recently recorded a four song CD together which is being released next month in England on Creation Records.

XX Bob Gruen
Keith & Ronnie & Joey @ Life Club Photo by Bob Gruen ゥ1998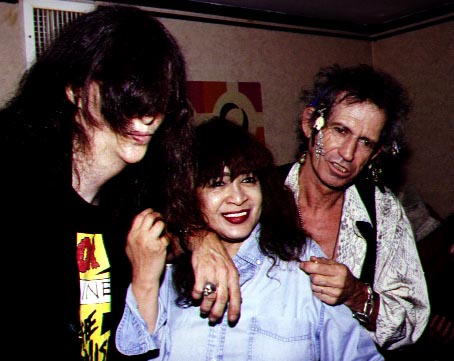 Check More For Bob Gruen Link
And Also
Joey Ramone's Birthday Party may, 18, 1998
Chicago @ Stones Sept. 25, 1997
---
News in 1998 from It's Only Rock'n Roll
All parts of the It's Only Rock'n Roll site is copyright of The Rolling Stones Fan Club of Europe. IORR and the main web address http://www.arena.no/stones. I
---
December 18: Happy birthday Keith!

From all the fans to Keith: Happy birthday! And as you take a look at the picture at the right, Keith is having a great time playing at Joey Ramone's Christmas party in New York City on Wednesday. PS. Keith did "Run Rudolph, Run", and he also stayed to play on "Be My Baby". Photo by Bob Gruen ゥ1998
December 17: Keith Richards guest appearance in New York last night
Keith Richards made a guest appearance at the New York City Life Club last night (Dec. 16th), playing at Joey Ramone's Christmas party. Keith joined Ronnie Spector on stage, playing "Run Rudolph, Run".
---
---
25 YEARS ROCKIN' -Page 8 (Under Konstructions)
Kopyright(K)1998 RokketWEB [http://rokkets.com/] All Rights Reserved