This is the Official PromoSITES of SHEENA & THE ROKKETS in Tokyo. Our BrandNEW CD Named @HEARTS is ReLEASED on 6th of AUGUST 1997. We hope you find your visit Informative'n'Enjoyable.
<!...Komments>
Upcoming our 14th NewCD is Produced by Harry Hosono. It just released. Also, It has KomputerData , So-Called CD-EXTRA. You'll enjoy with A Lotta Fun KONTENTS Konnected with RokketWEB on INTERNET. THANX A MILLION fromXNA+MAKOTO & THE ROKKETS.

InterNET LivePARTY
VideoKLIP for Single "Internet Kiss" by RealPLAYER
---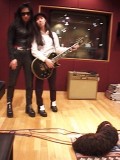 KONTENTS
---
We had PLAYBACK PARTY@SHELTER Shimokitazawa on MAY 19, The Place was packed and soldOUTed. Thanks with A-Lotta LUV.



TowerRECORDS-@TOWER.JP- A Newest OnLINE RecordSHOP. You can order S&R's @HEART!!!

---
---
---
This page is a part of RokketWEB
---

KopyRIGHT(k)1997 Sheena & the Rokkets AllRIGHT Reserved.
---